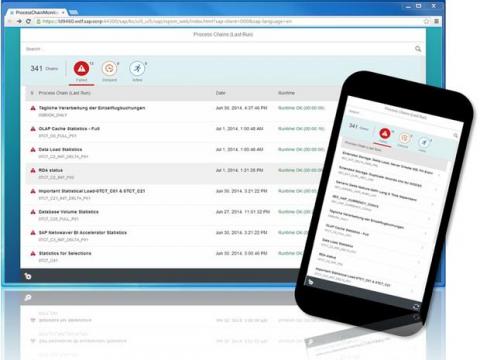 A new SAP HANA platform, announced on Wednesday, could open up new paths to real-time analytics, and promises to speed enterprises along on their journey to the cloud. SAP BW/4HANA is a new data warehouse application that will be able to run on-premises, and will eventually be available on AmazonWeb Services (AWS) and the SAP HANA Enterprise Cloud.
As noted by ZDNet's Larry Dignan, the product is essentially a version of SAP's Business Warehouse (BW) software that has been optimized to run exclusively on HANA. For those unfamiliar, SAP HANA is SAP's in-memory platform that handles, among other things, data processing.
In a press release, SAP described the offering as its "next-generation data warehouse application." One of the key value adds here is that BW/4HANA analyzes data where it resides, which could potentially lower the duplication of data points and slow data movement.
Data lakes, streaming data, sensor data, and IoT data can all be analyzed. It also provides "interactivity with historical and live data residing in a diverse IT landscape, whether within or outside the enterprise," according to the press release.
Coinciding with the BW/4HANA news, SAP also issued a new certification for memory-optimized X1 instances on AWS. "The new certification covers scale-out deployments up to 7 nodes totaling 14 TB of memory, making it an ideal platform for customers who want to quickly deploy enterprise workloads in SAP HANA on AWS," the press release said.
The BW integration with HANA is an interesting move, being that it wasn't too long ago that SAP had to quell rumors that HANA would be replacing the BW product. The BW/4HANA further proves SAP's heavy focus on HANA, and potentially points to the firm's desire to lock customers into the platform.
SAP BW/4HANA will be available to customers on September 7, 2016.
techrepublic.com