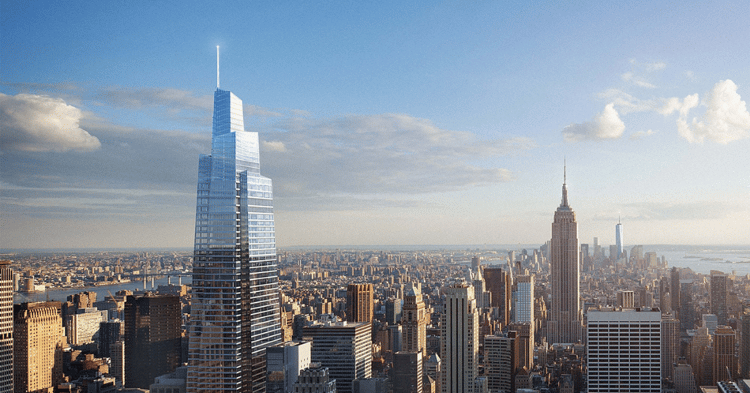 The $3.1-billion One Vanderbilt commercial office tower that will rise to an expected 1,401 ft across the street from Grand Central Terminal will be unmistakable on the map of midtown Manhattan—and likely far beyond. But the project, set for completion by the end of 2020, aims to be as distinctive within its 1.7 million sq ft as it is on the outside.
Led by SL Green Realty as owner and developer, Kohn Pedersen Fox Associates as architect and Tishman Construction as construction manager, the skyscraper seeks to raise the global standard on sustainable design and construction. From big-ticket items such as a 1.2-MW cogeneration system and a 50,000-gallon rainwater collection and treatment system to a comprehensive and continuous focus on sustainable priorities in nearly every aspect of the project, One Vanderbilt is set to up the ante in real estate development, industry observers say.
"It is probably one of greatest locations of an office building anywhere in the world," says Carlo Scissura, president and CEO of the New York Building Congress. "Other owners are saying 'We're going to need to compete on sustainability and really set the bar high.' "
The development and project team put a strong focus on green design and construction from the earliest planning stage, says Liz Majkowski, SL Green's senior vice president of operations and director of sustainability. "We knew from the initial design, in conversations with the architect, that we wanted this to be the highest level of LEED certification," she says, adding that team members also are pursuing certification under the international WELL building standard that measures features impacting human health and well-being.
That thinking permeated the entire process across design, planning, logistics, team selection, materials procurement, scheduling and more, Majkowski says. "We really dug into the details to make sure every aspect … of our sustainability goals are incorporated," she adds.
Such efforts have put One Vanderbilt "on the forefront of sustainability," says Walter Mehl, partner at Jaros, Baum & Bolles, the project's M-E-P engineer.
Center of Attention
One Vanderbilt's groundbreaking last fall followed 10 years of effort to assemble the site on the block between Madison and Vanderbilt avenues from 42nd to 43rd streets, and several years of planning, Majkowski says. Along the way, SL Green also added the National Pension Service of Korea as a development partner, Hines as development manager, Severud Associates as structural engineer, and Gensler as interiors architect.
The project team had spent much of last year demolishing prior structures and since October has been working on the foundations, with vertical construction set to begin in late spring to deliver spaces on schedule to tenants that will include TD Bank and an 11,000-sq-ft restaurant run by famed chef Daniel Boulud. Developers also are wooing JP Morgan Chase, among other high-end names, says The New York Post.
The tower will feature mostly office space, along with ground-floor retail and an observation deck near the top of the 1,301-ft main structure, below a 100-ft spire. But even early work has been challenging, with the site in one of Manhattan's busiest cores for vehicle and pedestrian street traffic as well as subterranean transit lines—all of which impact deliveries, storage, noise levels and schedules, Majkowski says. "We have tight space limitations and traffic on all sides of the building."
As part of New York City's public review process, the developers agreed to help address the area's traffic bottleneck with $220 million worth of transit improvements—underground connections for subway and commuter train lines as well as street-level access to a new pedestrian plaza the city will create by closing Vanderbilt Avenue between 42nd and 43rd streets.
That work will mark the first time a private developer has taken on such a large job for the Metropolitan Transportation Authority, says Evin Epstein, sustainability administrator at SL Green.
"Right now the [MTA] shuttle, the Lexington Avenue [subway] line, Metro North and the Long Island Railroad are four ships passing in the night, and unless you're a seasoned commuter who knows how to get in and out quickly, you're lost," says Marc Wurzel, general counsel of the Grand Central Partnership, a business association. "This project is going to create some rational connections between each of those outlets."
Hard and Soft Sustainability
The transit work is one example of SL Green's sustainability contributions to the surrounding neighborhood, but the project has other tangible sustainable features, such as its cogeneration system. "You don't see cogeneration on-site in every building today," Mehl says.
One Vanderbilt also will have both a waterside economizer and an airside one, which Mehl says is a rare combination that "goes above and beyond" in a new development, with local rules only requiring one or the other. These features consume less energy, with the airside mechanism using the ambient temperature later into each season to minimize the use of heating or cooling systems, and the waterside similarly "using Mother Nature" to cool retained water later into warm weather before turning to build chillers, he says.
The rainwater management system is another big contributor to the project's sustainable profile, with a large detention basin that reduces flow into the sewer system during storms as well as the retention and treatment system that collects water for use in irrigation and cooling towers, Mehl says.
Majkowski says the project team has also put a priority on sustainable materials, such as including recycled content in structural steel, reinforcing steel, and concrete mixes. That extends to materials for rebar, mesh, and formwork in the superstructure concrete effort starting later this year, including the use of 90% recycled content in the rebar, instead of the typical 60%, says Peter Downes, chief estimator at Navillus Contracting. "They have given us rigorous criteria to follow," he notes.
"The feedback was far greater across all geographies and across multiple industries than what we expected," said Clay Caldwell (pictured), senior vice president and global general manager, HANA Enterprise Cloud at SAP, in an interview with CRN. "It wasn't simply around the opportunity to offer data sovereignty or compliance offering. It was more broad-based. There is still a large segment of our customer population that would prefer to be in their own data center."
To continue reading the full article please click here